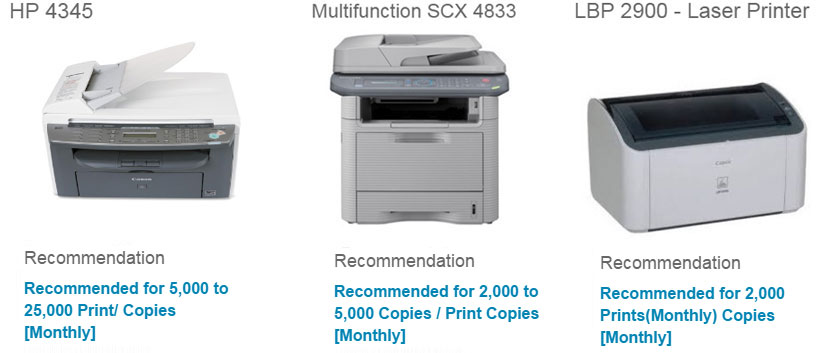 We provide rental laser printer services of all sizes & shapes that support various functionalities suitable to your need or requirements. Our offered printer machines include Samsung Laser Printers, HP Laser Printer and also other varieties available in the market. We offer our rental printer service on monthly basis to our valued clients in various cities including Mumbai, Pune, Nasik and Thane as per their requirements.
We have both wired and wireless printer machines available with us. Our offered Samsung and HP Laser printers can easily connect to your network either with one or multiple printers.
Pick the capabilities most necessary to you, including the quantity of pages you can print, copy or fax every moment, printing resolution, double sided printing etc.
Selection of the best technology (laser printer) will rely upon the volume of your work as well as how regularly you need to replace the cartridges.
Laser Printers
---
Laser Printer is now commonly used in all offices, educational institutes etc. either small or big Enterprise. It uses toner cartridge instead of ink, hence gives the speed to printing work with excellent quality text and graphics printing. Laser Printer machines also support duplexing model which enable both side printings on the paper without removing it. It saves many time & reduces the paper cost to half. Our offered rental laser printer service in India can help you to create great impression on your clients.
Samsung Laser Printer
---
Samsung Laser Printers are mostly appreciated for its easy & hassle free installation setup. It requires low maintenance. It is very user friendly having easy control panel. Samsung printers offer more control to your printing job by providing edit options before print. It supports numerous features that can easily be used like removing any texts or images. It supports both side printing on the paper by which you can save paper. The best quality of Samsung printer is its speed. It provides automatic page feeder that is the reason of his speed. It can easily print 25 pages per minute.
Our rental Laser Printer Feature list:
---
We offer machine free to the customer by charging only per copy cost.
We provide 5 years warranty service of all parts of the printer.
Our HP(Hewlett-Packard) Laser printer offers A4 & FS copy size with the speed of printing 45 pages per minute.
It has the paper capacity of 800 sheets in 2 tray.
It supports duplex function i.e both side of page can be printed.
You can easily enlarge or reduce your actual page pattern by 25% to 200%.
Printer Machine Accessories
---
We also provide different printing accessories which are widely used in modern printing technology. Our offered accessories include desktop printer stands, USB printer cables, paper trays, sheet feeders, ink and toner, maintenance kits etc. You can easily find your required inks, toners & cartridges here.